Product Summary
The L7812CV is a three-terminal positive regulator, which is available in TO-220, TO-220FP, TO-3 and D2PAK packages and several fixed output voltages, making it useful in a wide range of applications. The L7812CV can provide local on-card regulation, eliminating the distribution problems associated with single point regulation.
Parametrics
L7812CV absolute maximum ratings: (1)DC input voltage: 35 V for VO= 5 to 18 V, 40 V for VO= 20, 24 V; (2)Output current: Internally limited; (3)Power dissipation: Internally limited; (4)Storage temperature range -65 to 150℃; (5)Operating junction temperature range: 0 to 125℃.
Features
L7812CV features: (1)output current to 1.5A; (2)output voltages of 5; 5.2; 6; 8; 8.5; 9; 12; 15; 18; 24V; (3)thermal overload protection; (4)short circuit protection; (5)output transition soa protection.
Diagrams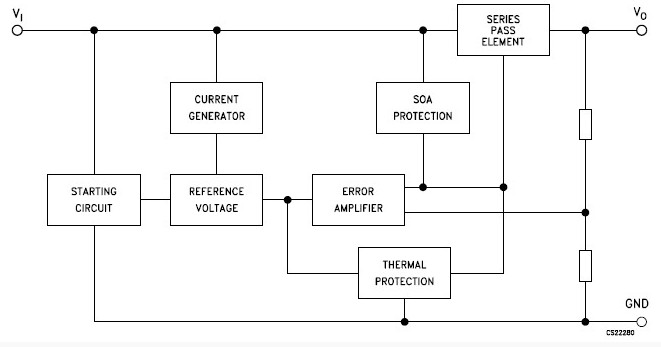 Image
Part No
Mfg
Description
Pricing
(USD)
Quantity

L7812CV-DG

STMicroelectronics

Linear Regulators - Standard POS Voltage Reg IC 3-Terminal 1.5A

Data Sheet



| | |
| --- | --- |
| 0-1: | $0.35 |
| 1-10: | $0.28 |
| 10-100: | $0.21 |
| 100-250: | $0.18 |


L7812CV

STMicroelectronics

Linear Regulators - Standard 12V 1.0A Positive

Data Sheet



| | |
| --- | --- |
| 0-1: | $0.33 |
| 1-10: | $0.24 |
| 10-100: | $0.21 |
| 100-250: | $0.18 |