Product Summary
The LMC662AIM CMOS Dual operational amplifier is ideal for operation from a single supply. It operates from +5V to +15V and features rail-to-rail output swing in addition to an input common-mode range that includes ground. Performance limitations that have plagued CMOS amplifiers in the past are not a problem with this design. Input VOS, drift, and broadband noise as well as voltage gain into realistic loads (2 kW and 600W) are all equal to or better than widely accepted bipolar equivalents. The LMC662AIM is built with National's advanced Double-Poly Silicon-Gate CMOS process. See the LMC662AIM datasheet for a Quad CMOS operational amplifier with these same features.
Parametrics
LMC662AIM absolute maximum ratings: (1)Supply Voltage (V+ − V−): 16V; (2)Lead Temperature (Soldering, 10 sec.): 260℃; (3)Storage Temp. Range: −65℃ to +150℃; (4)Voltage at Input/Output Pins: (V+)+0.3V, (V−)−0.3V; (5)Current at Output Pin: ±18 mA; (6)Current at Input Pin: ±5 mA; (7)Current at Power Supply Pin: 35 mA; (8)Junction Temperature: 150℃.
Features
LMC662AIM features: (1)Rail-to-rail output swing; (2)Specified for 2 kW and 600W loads; (3)High voltage gain: 126 dB; (4)Low input offset voltage: 3 mV; (5)Low offset voltage drift: 1.3 μV/℃; (6)Ultra low input bias current: 2 fA; (7)Input common-mode range includes V−; (8)Operating range from +5V to +15V supply; (9)ISS = 400 μA/amplifier; independent of V+; (10)Low distortion: 0.01% at 10 kHz; (11)Slew rate: 1.1 V/μs; (12)Available iextended temperature range (−40℃ to +125℃); ideal for automotive applications; (13)Available to a Standard Military Drawing specification.
Diagrams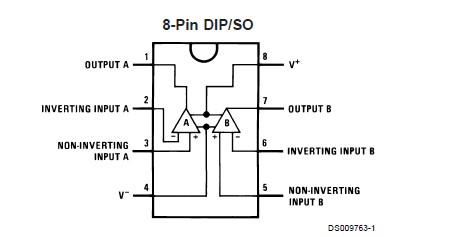 Image
Part No
Mfg
Description
Pricing
(USD)
Quantity

LMC662AIM

National Semiconductor (TI)

Operational Amplifiers - Op Amps

Data Sheet



| | |
| --- | --- |
| 0-475: | $0.70 |
| 475-570: | $0.62 |
| 570-1045: | $0.48 |
| 1045-5035: | $0.46 |


LMC662AIM/NOPB

National Semiconductor (TI)

Operational Amplifiers - Op Amps CMOS DUAL OP AMP

Data Sheet



| | |
| --- | --- |
| 0-1: | $1.09 |
| 1-25: | $0.88 |
| 25-100: | $0.79 |
| 100-250: | $0.70 |


LMC662AIMX/NOPB

National Semiconductor (TI)

Operational Amplifiers - Op Amps CMOS DUAL OP AMP

Data Sheet



| | |
| --- | --- |
| 0-1: | $1.09 |
| 1-25: | $0.88 |
| 25-100: | $0.79 |
| 100-250: | $0.70 |


LMC662AIMX

National Semiconductor (TI)

Operational Amplifiers - Op Amps

Data Sheet



| | |
| --- | --- |
| 0-2500: | $0.48 |
| 2500-5000: | $0.46 |
| 5000-10000: | $0.44 |