Product Summary
The LM339D is a quad differential comparator. The LM339D consists of four independent voltage comparators that are designed to operate from a single power supply over a wide range of voltages. Operation from dual supplies also is possible, as long as the difference between the two supplies is 2 V to 36 V, and V CC is at least 1.5 V more positive than the input common-mode voltage. The LM339D is characterized for operation from 0℃ to 70℃. The outputs can be connected to other open-collector outputs to achieve wired-AND relationships.
Parametrics
LM339D absolute maximum ratings: (1)Supply voltage:36 V; (2)Differential input voltage:±36 V; (3)Input voltage range (either input):-0.3V to 36V; (4)Output voltage:36 V; (5)Output current:20mA; (6)Duration of output short circuit to ground: Unlimited; (7)Package thermal impedance:86℃/W; (8)Operating virtual junction temperature:150℃; (9)Storage temperature range:-65℃ to 150℃.
Features
LM339D features: (1)Single Supply or Dual Supplies; (2)Wide Range of Supply Voltage: Max Rating2 V to 36 V, Tested to 30 V: Non-V Devices, Tested to 32 V:V-Suffix Devices; (3)Low Supply-Current Drain Independent of; (4)Supply Voltage:0.8mA Typ; (5)Low Input Bias Current:25nA Typ; (6)Low Input Offset Voltage:2 mV Typ; (7)Common-Mode Input Voltage Range Includes Ground; (8)Differential Input Voltage Range Equal to Maximum-Rated Supply Voltage:± 36 V; (9)Low Output Saturation Voltage; (10)Output Compatible With TTL, MOS, and CMOS.
Diagrams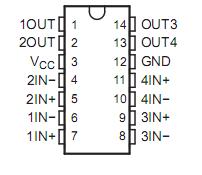 Image
Part No
Mfg
Description
Pricing
(USD)
Quantity

LM339DBR

Texas Instruments

Comparator ICs Quad Differential

Data Sheet



| | |
| --- | --- |
| 0-1: | $0.13 |
| 1-25: | $0.11 |
| 25-100: | $0.10 |
| 100-250: | $0.09 |


LM339DBRE4

Texas Instruments

Comparator ICs Quad Differential Comparator

Data Sheet



| | |
| --- | --- |
| 0-1: | $0.18 |
| 1-25: | $0.13 |
| 25-100: | $0.11 |
| 100-250: | $0.10 |


LM339DBRG4

Texas Instruments

Comparator ICs Quad Diff Comparator

Data Sheet



| | |
| --- | --- |
| 0-1: | $0.18 |
| 1-25: | $0.13 |
| 25-100: | $0.11 |
| 100-250: | $0.10 |


LM339DE4

Texas Instruments

Comparator ICs Quad Differential Comparator

Data Sheet



| | |
| --- | --- |
| 0-1: | $0.20 |
| 1-25: | $0.15 |
| 25-100: | $0.12 |
| 100-250: | $0.10 |


LM339DG

ON Semiconductor

Comparator ICs ANA SNGL SUP

Data Sheet



| | |
| --- | --- |
| 0-1: | $0.22 |
| 1-25: | $0.17 |
| 25-100: | $0.11 |
| 100-500: | $0.09 |


LM339DG4

Texas Instruments

Comparator ICs Quad Differential Comparator

Data Sheet



| | |
| --- | --- |
| 0-1: | $0.23 |
| 1-25: | $0.17 |
| 25-100: | $0.13 |
| 100-250: | $0.10 |


LM339DR

Texas Instruments

Comparator ICs Quad Differential

Data Sheet



| | |
| --- | --- |
| 0-1: | $0.23 |
| 1-25: | $0.15 |
| 25-100: | $0.12 |
| 100-250: | $0.10 |


LM339DR2

ON Semiconductor

Comparator ICs 3-36V Qud Comparator

Data Sheet

Negotiable