Product Summary
The UCC2580DTR-4 is a PWM controller. It is designed to implement a variety of active clamp/reset and synchronous rectifier switching converter topologies.
Parametrics
UCC2580DTR-4 absolute maximum ratings: (1)VDD: 16V; (2)IVDD: 25mA; (3)LINE, RAMP: 0.3V to VDD + 1V; (4)ILINE, IRAMP: 5mA; (5)DELAY: 5.3V; (6)IDELAY: 5mA; (7)IOUT1 (tpw < 1 s and Duty Cycle < 10%): 0.6A to 1.2A; (8)IOUT2 (tpw < 1 s and Duty Cycle < 10%): 0.4A to 0.4A; (9)ICLK: 100mA to 100mA; (10)OSC1, OSC2, SS, SHTDWN, EAIN: 0.3V to REF + 0.3V; (11)IEAOUT: 5mA to 5mA; (12)IREF: 30mA; (13)PGND: 0.2V to 0.2V; (14)Storage Temperature: 65℃ to +150℃; (15)Junction Temperature: 55℃ to +150℃; (16)Lead Temperature (Soldering, 10 sec.): +300℃.
Features
UCC2580DTR-4 features: (1)Provides Auxiliary Switch Activation Complementary to Main Power Switch Drive; (2)Programmable deadtime (Turn-on Delay) Between Activation of Each Switch; (3)Voltage Mode Control with Feedforward Operation; (4)Programmable Limits for Both Transformer Volt- Second Product and PWM Duty Cycle; (5)High Current Gate Driver for Both Main and Auxiliary Outputs; (6)Multiple Protection Features with Latched Shutdown and Soft Restart; (7)Low Supply Current (100 A Startup, 1.5 mA Operation).
Diagrams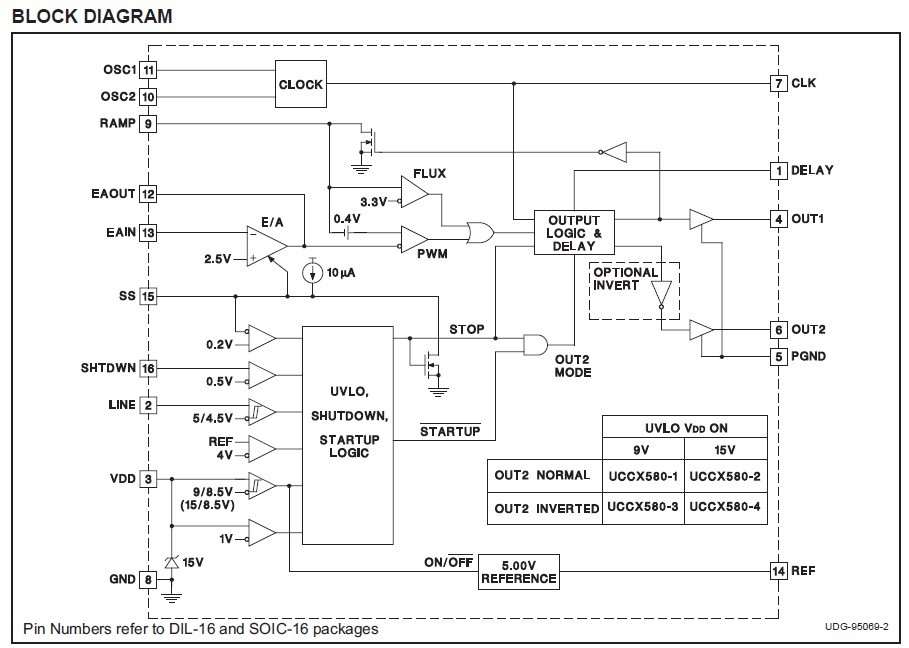 Image
Part No
Mfg
Description
Pricing
(USD)
Quantity

UCC2580DTR-4

Texas Instruments

Voltage Mode PWM Controllers Single Ended Active Clamp/Reset PWM

Data Sheet



| | |
| --- | --- |
| 0-1885: | $2.11 |
| 1885-2000: | $1.97 |
| 2000-2500: | $1.97 |


UCC2580DTR-4G4

Texas Instruments

Voltage Mode PWM Controllers Single Ended Active Clamp/Reset PWM

Data Sheet



| | |
| --- | --- |
| 0-1885: | $2.11 |
| 1885-2000: | $1.97 |
| 2000-2500: | $1.97 |