Product Summary
The KSZ8993 is a highly integrated Layer 2 managed switch. It is designed for low port count, cost-sensitive 10/100 Mbps switch systems. The KSZ8993 offers an extensive feature set that includes tag/port-based VLAN, quality of service (QoS) priority, management, management information base (MIB) counters, MII/SNI, and CPU control/data interfaces to effectively address both current and emerging Fast Ethernet applications. The applications of the KSZ8993 include Broadband gateway / Firewall / VPN, Integrated DSL or cable modem multi-port router, Wireless LAN access point + gateway, Residential and enterprise VoIP gateway/phone, Set-top/game box.
Parametrics
KSZ8993 absolute maximum ratings: (1)Supply Storage: -55℃ to 150℃; (2)Supply Voltage: VDDA, VDDAP, VDDC: –0.5V to 2.4V, VDDATX, VDDARX, VDDIO: –0.5V to 4.0V; (3)Input Voltage (all inputs): –0.5V to 4.0V; (4)Output Voltage (all outputs): –0.5V to 4.0V; (5)Lead Temperature (soldering, 10 sec): N/A; (6)Storage Temperature (Ts) N/A: -55℃ to 150℃.
Features
KSZ8993 features: (1)Proven Integrated 3-Port 10/100 Ethernet Switch: 2nd generation switch with three MACs and two PHYs fully compliant to IEEE 802.3u standard, Non-blocking switch fabric assures fast packet delivery by utilizing a 1K MAC address lookup table and a store-and-forward architecture; (2)Comprehensive Configuration Register Access: Serial management interface (SMI) to all internal registers, MII management (MIIM) interface to PHY registers; (3)QoS/CoS Packet Prioritization Support: Per port, 802.1p and DiffServ-based, Re-mapping of 802.1p priority field per port basis.
Diagrams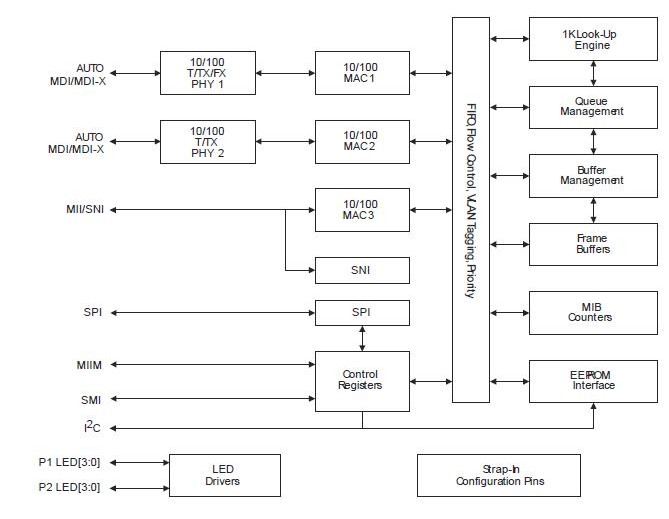 Image
Part No
Mfg
Description
Pricing
(USD)
Quantity

KSZ8993



IC SWITCH 10/100 3PORT 128PQFP

Data Sheet



| | |
| --- | --- |
| 0-1: | $5.99 |
| 1-25: | $5.39 |
| 25-100: | $4.78 |
| 100-250: | $4.58 |
| 250-500: | $4.49 |


KSZ8993-EVAL



BOARD EVALUATION FOR KSZ8993

Data Sheet

Negotiable

KSZ8993FL



IC CONV MED 10/100 SGL 128PQFP

Data Sheet



| | |
| --- | --- |
| 0-1: | $5.61 |
| 1-25: | $5.05 |
| 25-100: | $4.48 |
| 100-250: | $4.29 |
| 250-500: | $4.21 |


KSZ8993F



IC CONV MED 10/100 3PORT 128PQFP

Data Sheet



| | |
| --- | --- |
| 0-1: | $5.06 |
| 1-25: | $4.55 |
| 25-100: | $4.04 |
| 100-250: | $3.87 |
| 250-500: | $3.80 |


KSZ8993F-A1



IC CONV MED 10/100 3PORT 128PQFP

Data Sheet

Negotiable

KSZ8993F-EVAL



BOARD EVALUATION FOR KSZ8993F

Data Sheet

Negotiable

KSZ8993I



IC SWITCH 10/100 3PORT 128PQFP

Data Sheet



| | |
| --- | --- |
| 0-1: | $11.66 |
| 1-25: | $9.80 |
| 25-100: | $9.01 |
| 100-250: | $8.21 |
| 250-500: | $7.68 |


KSZ8993M



IC SWITCH 10/100 3PORT 128PQFP

Data Sheet



| | |
| --- | --- |
| 0-1: | $5.08 |
| 1-25: | $4.06 |
| 25-100: | $3.43 |
| 100-250: | $3.30 |
| 250-500: | $3.22 |