Product Summary
The C3203 is an epitaxial planar NPN transistor. The device is suitable for high current application.
Parametrics
C3203 absolute maximum ratings: (1)Collector-Base Voltage, VCBO: 35 V; (2)Collector-Emitter Voltage, VCEO: 30 V; (3)Emitter-Base Voltage, VEBO: 5 V; (4)Collector Current, IC: 800 mA; (5)Emitter Current, IE: -800 mA; (6)Collector Power Dissipation, PC: 400 mW; (7)Junction Temperature, Tj: 150℃; (8)Operating Temperature, Topr: -40~85℃; (9)Storage Temperature Range, Tstg: -55~150℃.
Features
C3203 features: (1)Complementary to KTA1271A.
Diagrams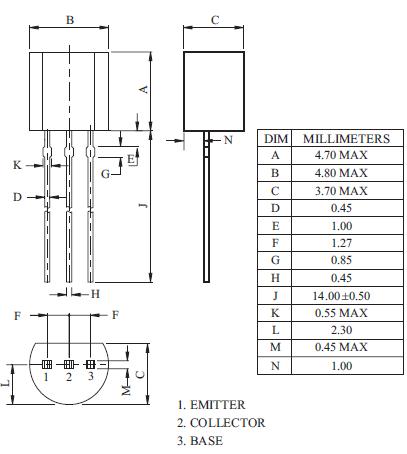 C320C334M5U5CA



CAP CER 0.33UF 50V 20% RADIAL

Data Sheet

Negotiable

C320C334M5U5TA



CAP CER 0.33UF 50V 20% RADIAL

Data Sheet



| | |
| --- | --- |
| 0-1: | $0.29 |
| 1-10: | $0.20 |
| 10-50: | $0.14 |
| 50-100: | $0.12 |
| 100-250: | $0.10 |
| 250-500: | $0.09 |
| 500-1000: | $0.08 |
| 1000-2500: | $0.07 |


C320C470J2G5CA



CAP CER 47PF 200V 5% RADIAL

Data Sheet

Negotiable

C320C333M5U5TA



CAP CER 0.033UF 50V 20% RADIAL

Data Sheet



| | |
| --- | --- |
| 0-1: | $0.20 |
| 1-10: | $0.14 |
| 10-50: | $0.09 |
| 50-100: | $0.08 |
| 100-250: | $0.06 |
| 250-500: | $0.05 |
| 500-1000: | $0.05 |
| 1000-2500: | $0.05 |


C320C333M5U5CA



CAP CER 0.033UF 50V 20% RADIAL

Data Sheet

Negotiable

C320C333M1U5TA



CAP CER 0.033UF 100V 20% RADIAL

Data Sheet



| | |
| --- | --- |
| 0-1: | $0.22 |
| 1-10: | $0.15 |
| 10-50: | $0.10 |
| 50-100: | $0.09 |
| 100-250: | $0.07 |
| 250-500: | $0.07 |
| 500-1000: | $0.06 |
| 1000-2500: | $0.05 |